Venue/Travel
The InterOp meeting will take place at:
Nara Prefectural New Public Hall was constructed in 1987 in commemoration of the 100th anniversary of the establishment of Nara Prefecture. It is located in the center of Nara National Park, which is famous for its beauty and 1,200 tame deer.
The Ministry of Foreign Affairs of Japan provides the information about visa and entering Japan. If you need the visa, please check the following web site:

The most convenient means of transportation is to take a direct flight to the Kansai International Airport.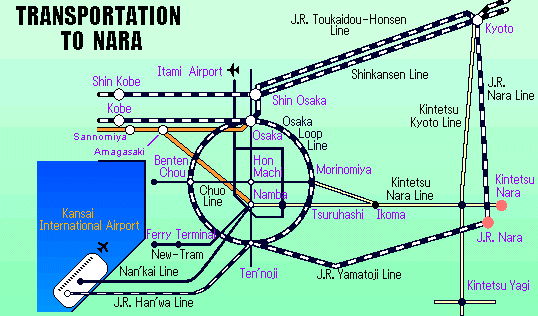 From Kansai International Airport to Nara:
Further details can be found from
this page (Bus timetable, and so on)
.
From Kyoto to Nara:
From Osaka/Itami Airport to Nara:
Osaka Airport(Itami Airport) --> Airport Bus (about 30 minutes) --> Kintetsu Uehommachi --> Kaisoku kyuko (Kintetsu Nara Line) 29 minutes --> Kintetsu Nara

Staion

is approximately 55 minutes. (JPY 620/bus + JPY 540/train)
From Osaka to Nara:
The transfer from Shinkansen at JR Shin-Osaka or JR Kyoto station is convenient.
Bus between JR Nara station and conference venue.
Route: 2(city), 56, 57, 61, 62, 122, 124.
The nearest bus stop to venue is "Daibutsuden Kasuga-Taisha mae".
200 yen
Bus between Kintetsu Nara station and conference venue.
Route: 2(city), 6(city-center), 38, 56, 57, 58, 59, 60, 61, 62, 122, 124, 126.
The nearest bus stop to venue is "Daibutsuden Kasuga-Taisha Mae".
200 yen